Ossie Clark for Charnos
As documented in his diaries of the time, Ossie Clark designed a range of lingerie for established British underwear manufacturer Charnos in the late Seventies. Quirky tights, stockings and Thirties-inspired camiknickers and slips were all in his trademark style and are typically flattering and sensual to wear. This is a beautiful piece in slinky white nylon with high lace insets on each side and a lace-filled diamond panel in the centre.


Size
Labelled a UK14 - Length 47"
Fabric
Nylon
Flaws
None noted. Sold as vintage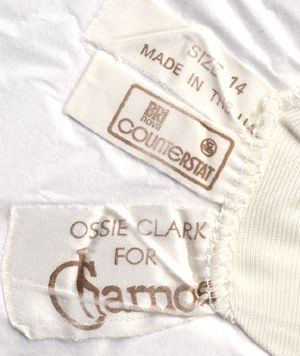 £38 sold
Please with any questions